As most people may know, Stern has just released their newest game, The Led Zeppelin Pinball! Keep on reading to find out more information!
Led Zeppellin
Led Zeppelin were an English rock band formed in London in 1968. The group consisted of vocalist Robert Plant, guitarist Jimmy Page, bassist/keyboardist John Paul Jones, and drummer John Bonham.
With their heavy, guitar-driven sound, they are regularly cited as one of the progenitors of heavy metal, although their style drew from a variety of influences, including blues and folk music. The band have been credited with significantly impacting the nature of the music industry, particularly in the development of album-orientated rock (AOR) and stadium rock. Many critics consider Led Zeppelin one of the most successful, innovative and influential rock groups in history. Source
New Led Zeppelin Pinball
The Led Zeppelin pinball machines will be available in Pro, Premium, and Limited Edition models.
In this high energy rock and roll pinball concert experience, pinball and music are fused together.  Players are transported back to Led Zeppelin's early days and tour the world from 1968-1980. As if players were members of the band playing its music, their play updates game features at the start of each verse and chorus of ten iconic Led Zeppelin songs:
Good Times Bad Times
Whole 

Lotta Love

The Song Remains the Same
Black Dog
Trampled Under Foot
Ramble On

Kashmir

Immigrant Song
Rock and Roll
Communication Breakdown
The Pro, Premium, and Limited Edition models all feature a custom-molded Hindenburg Zeppelin toy, based on the iconic imagery from the Led Zeppelin I album.  When lit, the Zeppelin toy scores speed locks on the player's musical journey to Zeppelin multiball.  A custom Swan Song Records trademark Icarus sculpted leaper toy takes flight when smashed by the chaotic pinball.   A 3-bank of drop targets, 3 custom steel ramps, and 3 flippers keep the pinball action rolling.
The Premium and Limited Edition models feature an innovative interactive Electric Magic™ toy.  This device is a unique motorized toy which rises from below the playfield to create different magical pinball experiences.  An optical spinner charges the Electric Magic magnet, capturing and making balls disappear.  The Electric Magic device also converts into a physical pinball bash toy capable of locking a ball or launching a ball around the playfield.
Pricing and Availability:
Manufacturer's Suggested Retail Price:
MSRP for sales to USA end-users, before any VAT, GST, Sales Tax, Duties, or other taxes.
Pro Model:                                                      $US 6,199
Premium Model:                                             $US 7,799
Limited Edition Model:                                    $US 9,199
Led Zeppelin pinball machines and accessories are available through authorized Stern Pinball distributors and dealers around the world. Source
Check out their video here!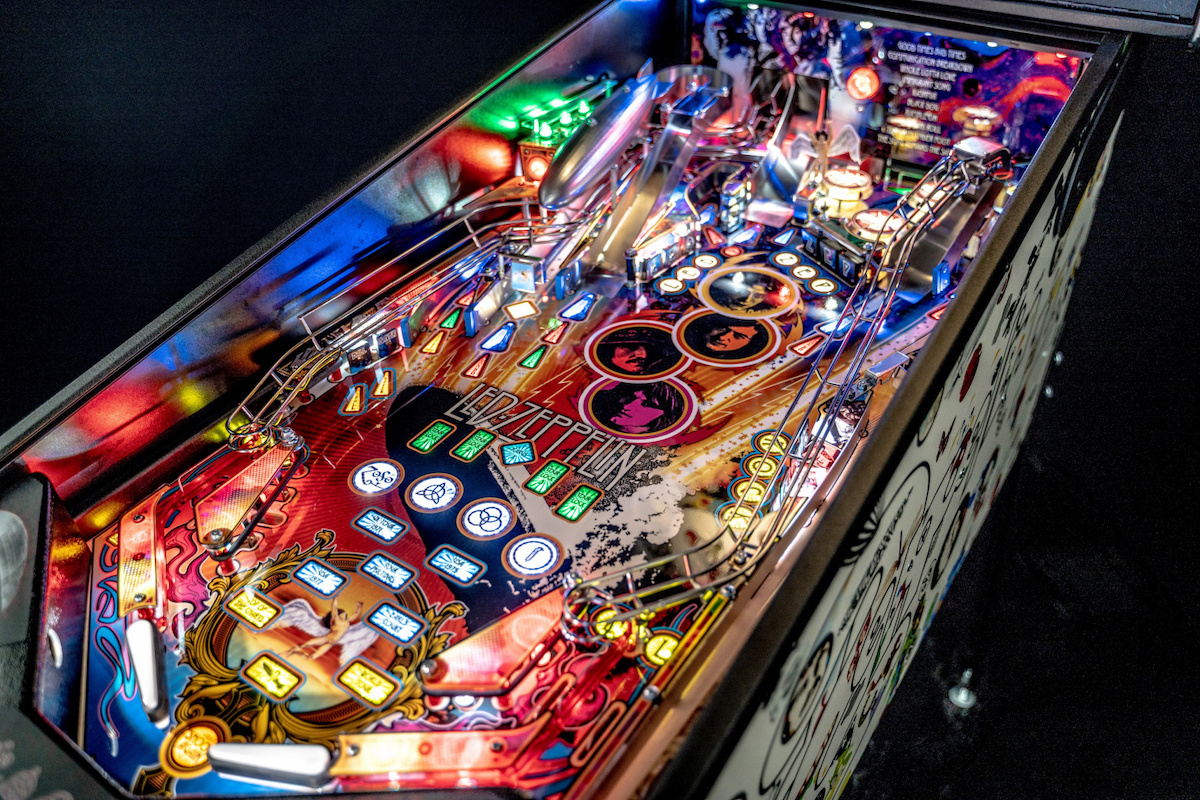 PINBALL ADVENTURES
Pinball Adventures is a North American manufacturing company producing fresh and unique Pinball machines. Our goal is to create to the highest standards, and spark the same joy we found as gamers when we rolled our first quarter into that coin slot so many years ago. Stemming from a lifelong passion, Pinball Adventures is created by gamers, for gamers. We strive to bring high quality, innovative, and captivating experiences for all to enjoy.
Visit our website at pinballadventures.com and also check out our new Instagram page for more updates https://www.instagram.com/pinballadventures/
Pinball, Pinball Adventures, Pinball Buzz, Pinball, Pinside, History of Pinball, Pinball News, Pinball Updates, Origin of Pinball, Pinball Skill Shots, Pinball Canada, Vancouver Pinball, pinball relates to real life, collect pinball, shooter rods, Parts of a pinball machine, Move a pinball machine, most expensive pinball machine, guide to playing pinball, Largest Pinball Collection, hardest pinball game, 5 Classic Pinball Machines, Owning a pinball machine, 5 Cool Pinball Art From The 80's , New Led Zeppelin Pinball